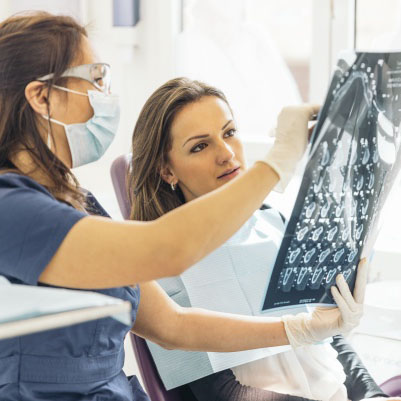 An Overview of Restorative Dental Services
Looking for the best restorative dentist to fix all of your mouth problems? If you have some dental issues that need to be addressed so you can once again have good oral health, then finding the right dentist is going to be your first step.
Restorative dentistry can make all the difference
If you are currently looking for a restorative dentist so you can have all of your mouth problems fixed once and for all, good for you! When your mouth is not in its best health, you are just not going to be able to do all of the things you can with a healthy mouth. For example, if you are missing any teeth that it is going to be hard for you to clean them, which is more than likely going to lead to tooth decay. If it hurts when you consume hot or cold drinks or foods it is because your teeth are sensitive, signifying another mouth problem.
Restorative dentistry overview
Restorative dentistry focuses on how to restore a dental patient's mouth so that it can perform and function exactly as it should. This can include providing them with one or two restorative procedures or many! It is going to merely depend on the particular needs of each dental patient when it comes to creating a treatment plan for restoring their mouth so that it can once again be a healthy mouth.
Is restorative dentistry the same as cosmetic dentistry?
No, it is not the same thing. The purpose of restorative dentistry is to make sure that the patient's mouth can function correctly, bringing it back to exactly how it is supposed to work. This includes a dental professional using one or more of the available tooth restoration options to fully restore the patient's mouth so that they can once again have a healthy mouth.
Cosmetic dentistry is focused on how to improve how someone looks when he or she shows their teeth, which means better-looking teeth when the person is talking or smiling. Cosmetic dentistry options are often used for patients after they have had their mouth fully restored utilizing any number of the many restorative options currently available to them.
Tooth restoration options
The following is a list of restorative dental services that are available for patients who need to rebuild their mouth so that it can once again be healthy:
Root canals
Bridges
Dental implants
Dental crowns
Dental inlays
Dental onlays
Dental fillings
Tooth extractions
Periodontal cleaning
Braces
Dentures
Sealants
Teeth whitening
In need of restorative dental services?
Only the best restorative dentist can provide you with the best restoration dental services possible. If you are ready to make an appointment so you can find out exactly what kind of restorative dental services are going to be available to you, all you have to do is call us right now so we can make you an appointment. During this first initial appointment, one of our experienced dentists will carefully examine your mouth to understand precisely what needs to be done so that you can once again have a healthy mouth.
A personalized treatment plan will be made for you to follow, of which can take anywhere from a few weeks to a few months to complete. Ready to fix your mouth problems? We are here for you!
Request an appointment here or call Calabasas Dental Care at (818) 591-2480 for an appointment in our Calabasas office.